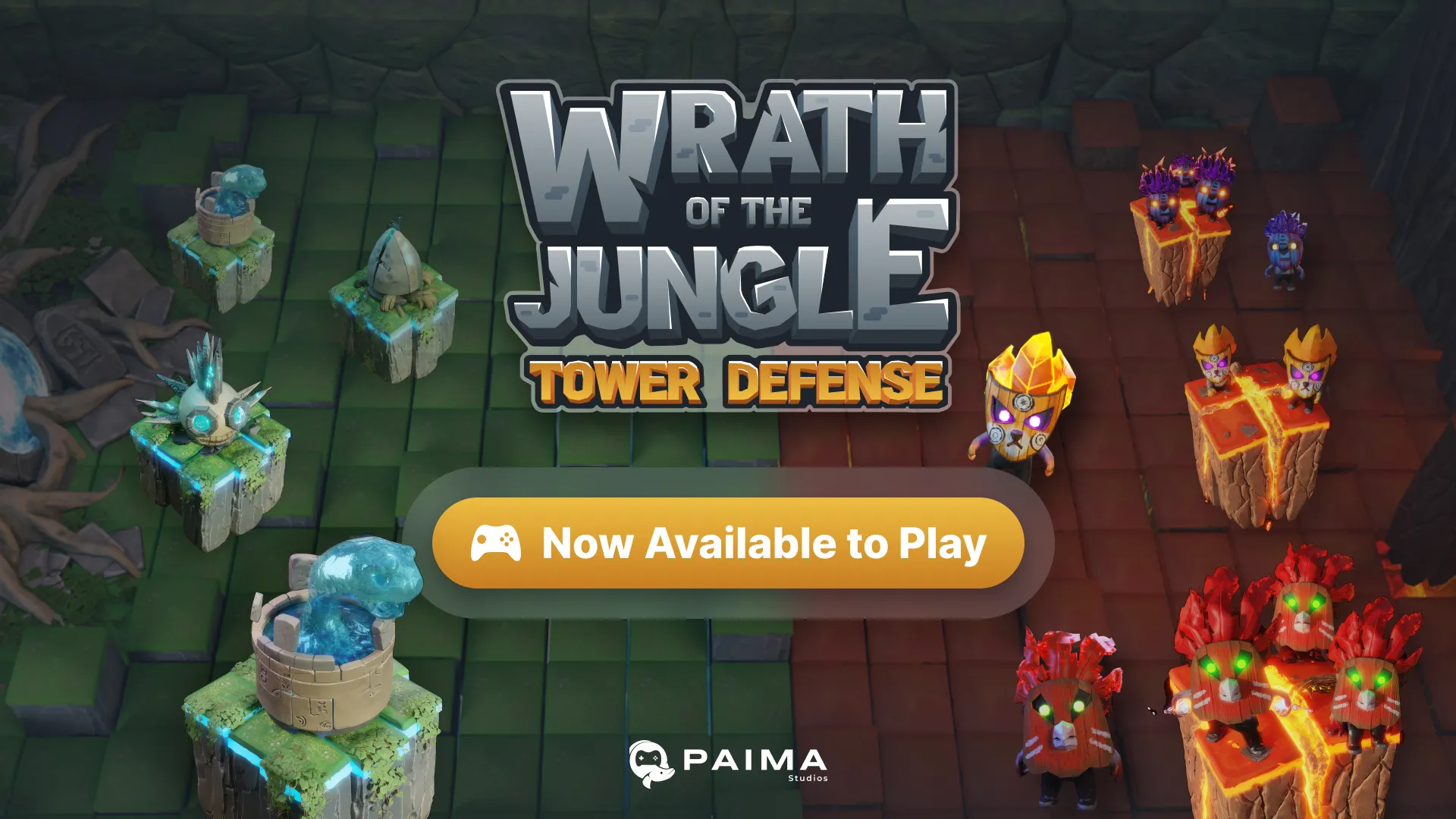 Paima Studios announced the launch of its next Web3 game Wrath of the Jungle: Tower Defense on the Paima Engine platform, a Web3 game publishing platform designed to build, launch and operate blockchain-powered games designed to support wide-scale decentralized applications. The game is the next step in the evolution of Paima Studios in quest to deliver the industry's leading on-chain game development platform.
Wrath of the Jungle: Tower Defense provides smooth gameplay flow that feels like a fully off chain game while having all the benefits of a true Web3 launching game. The game will feel just like a typical Web2 game yet take advantage of all the benefits of a fully on-chain Web3 game supported on wallets for Cardano, EVM, and Polkadot/Astar with Algorand coming soon.
"Wrath of the Jungle: Tower Defense is an exciting step forward for the entire space of on-chain Web3 gaming," said Robert Kornacki. Co-founder, Chief Strategy Officer of dcSpark. "For players, this is the most advanced on-chain game to date with fluid Web2-like gameplay, providing them a taste of the next generation of Web3 games. For developers, this acts as a strong milestone proving that with technology like Paima Engine, on-chain games/autonomous worlds have the opportunity to seriously set a mark on both the gaming and blockchain industries."
In the first 48 hours since the launch of our new onchain Tower Defense game over 800 games have been played with approximately 6,000 transactions recorded," said Sebastien Guillemot, Co-founder, Chief Technology Officer of dcSpark. "By leveraging Paima Engine's custom-built L2 infrastructure costs associated to settle the entire game on a public blockchain cost less than 4 US dollars , proving that it is possible to build blockchain games that attract a large user base without having to resort to financial incentivization of users to play, without having to depend on centralized infrastructure and without being prohibitively expensive for game developers to players"
Wrath of Jungle: Tower Defense boasts a multitude of innovative features:​
Powered entirely by a decentralized web3 infrastructure running online gameplay without the need for centralized servers.
Written in Javascript and Unity language to leverage Paima's ability to easily create onchain web3 games with web2 skills.
Completely free to play, a testament to how Paima enables the creation of onchain games so efficiently that gaming companies can subsidize user gameplay transaction fees while still running on public blockchains.
Users from all blockchains including Cardano, EVM, and Polkadot/Astar can play against each other in a crosschain lobby system. This significantly simplifies user acquisition by targeting the entire web3 addressable market rather than fracturing users into specific chains.
Optional NFTs that act as accounts, keeping track of wins and losses onchain. These NFTs can be freely traded on the open market and represent the user's ranking on a decentralized leaderboard.
Start playing today and check our brand new gamepage to learn more!
Wrath of the Jungle will also support a new standard called Gaming Accounts. This will allow users to play the game without manually signing a single transaction themselves a key feature in distinguishing us in the hotly contested blockchain gaming industry.
About Paima Studios​
Paima Studios, founded in April 2022, are the core developers of the Paima Engine: a Web3 engine built using novel layer 2 technology. Paima Engine is a safe and easy way to enter Web3 as it can be used with any programming language and doesn't expose users or developers to common Web3 risks and hacks. In January 2023, Paima Studios launched "Jungle Wars: NFT Rumble", the first game built using the Paima Engine to celebrate the mainnet release of the Paima Engine.
Media contact​
Lightning Communications
Fred Tanaka